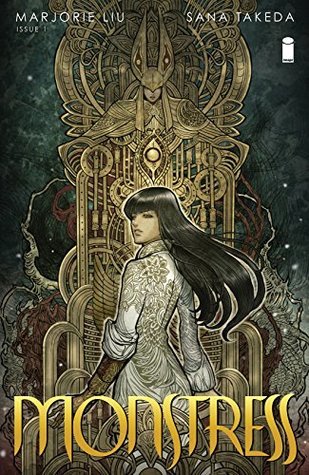 TITLE:
Monstress (Monstress #1)
AUTHOR:
Marjorie M. Liu
ILLUSTRATOR:
Sana Takeda
GENRE:
Graphic Novel, Fantasy, Sci-Fi (Steampunk)
PUBLICATION DATE:
July 19, 2016 by Image Comics
AMAZON | GOODREADS | BARNES & NOBLE
Steampunk meets Kaiju in this original fantasy epic for mature readers, as young Maika risks everything to control her psychic link with a monster of tremendous power, placing her in the center of a devastating war between human and otherworldly forces.
MY THOUGHTS
I received a free copy of this book via Edelweiss in exchange for an honest review.
Okay, first of all, this comic's artwork is GORGEOUS. Just wanted to put that in there because it's the one word I can use to describe it.
Second of all, I have no idea how to even write a decent review for this, so let's just list my thoughts in bullet form, shall we (because obviously one can never go wrong with using lists).
ARTWORK. ARTWORK. ARTWORK.
The storyline in this book is pretty good. It's definitely one that's worth a try. Though I did have a few problems with the info-dump during the previous page of every chapter that I may or may not have read-slash-understood.
This book was a bit creepy. And it's the good kind of creepy, by the way. One of the scenes I loved the most were those with the gigantic eyeball. I love that dude.
GOOORE! I'd probably recommend this books for older teens (though I'm not sure I can actually say something about that, because I'm only 15 and I've already managed to read and love this comic). Moving on, this book had a handful of gore in it and it was AWESOME. If you're a fan of violence like I am, then you're in for a treat, my friend.
DIVERSITY! We got both white-skinned and dark-skinned people here, AND TALKING CATS! Let's not forget about that talking cat, please. OH AND THERE'S THIS CUTE CHILD THAT'S HALF-FOX AND OMG I WANT TO HUG HIM AND SQUISH HIM SO BAD.
Basically, just try it out because there's a talking cat.
I'd definitely recommend this to those who can handle dark-themed comics and love tons of violence. If you're a reader who can't handle those, though, then you might just want to skip this. Oh, and one thing I'd also like to add is that I'm not quite sure I understood most of the storyline, or the background of the Arcanics and their battle with the humans. But maybe that's just me. All in all, I'm giving this book
3.5 stars.
Not a must-read for me, but it's definitely worth a try.