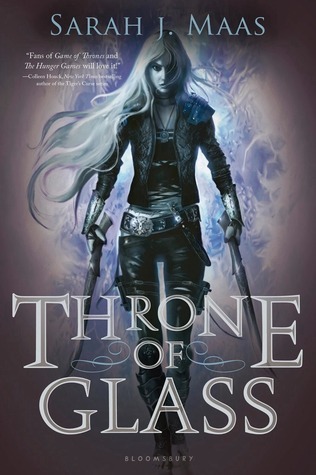 TITLE:
Throne of Glass (Throne of Glass #1)
AUTHOR:
Sarah J Maas
GENRE:
YA High Fantasy & Romance
PUBLICATION DATE:
August 2, 2012 by Bloomsbury
AMAZON | GOODREADS | BARNES & NOBLE
Meet Celaena Sardothien. Beautiful. Deadly. Destined for greatness.

In the dark, filthy salt mines of Endovier, an eighteen-year-old girl is serving a life sentence. She is a trained assassin, the best of her kind, but she made a fatal mistake: she got caught.

Young Captain Westfall offers her a deal: her freedom in return for one huge sacrifice. Celaena must represent the prince in a to-the-death tournament—fighting the most gifted thieves and assassins in the land. Live or die, Celaena will be free. Win or lose, she is about to discover her true destiny. But will her assassin's heart be melted?
MY (SHORTENED) THOUGHTS
Okay, so here's the funny thing:
I didn't really like this series at first.
YES. YES, I KNOW I SAID I LOVED THE SERIES. But the thing is,
Throne of Glass
didn't give me a good first impression. And I pretty much am or am not blaming all the hype because of it.
You see, I was expecting a lot of ass-kicking and limbs flying and maybe the occasional cursing.
What I didn't expect was Celaena's eyes sparkling at how handsome Dorian is before the book even reached 3%.
Yes, I am not kidding.
Princes are not supposed to be handsome! They're snivelling, stupid, repulsive creatures! This one... this... How unfair of him to be royal and beautiful.
Um excuse me girl, hold your needs for a second there.
I pretty much hated Dorian at that point, because I knew him and Celaena would end up together at some point in the book (um, duh).
Dorlaena just didn't give me the feels, guys. I'M SORRY.
Also, I was wondering why nobody knew that passage in Celaena's room. Doesn't the
King
know about that passage, at least? Doesn't ANYBODY?? Or is the palace just too large for anybody to be aware of every door it has?
The only thing I really did enjoy in this book
was the last part during the battle between Cain and Celaena, because
that
part finally had some butt-kicking action. Other than that, most of the things that happened in
Throne of Glass
just made me want to skip a few paragraphs.
Oh, but can I say I love Fleetfoot? THIS DOG BETTER LIVE 'TILL THE END OF THE SERIES OR I WILL CRY.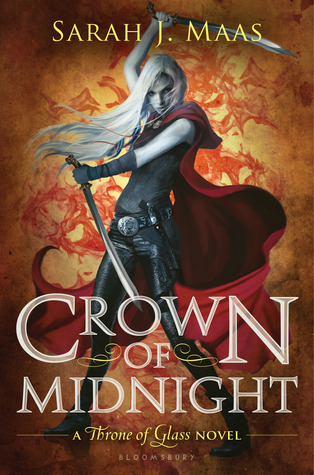 TITLE:
Crown of Midnight (Throne of Glass #2)
AUTHOR:
Sarah J Maas
GENRE:
YA High Fantasy & Romance
PUBLICATION DATE:
August 27, 2013 by Bloomsbury
AMAZON | GOODREADS | BARNES & NOBLE
"A line that should never be crossed is about to be breached.

It puts this entire castle in jeopardy—and the life of your friend."

From the throne of glass rules a king with a fist of iron and a soul as black as pitch. Assassin Celaena Sardothien won a brutal contest to become his Champion. Yet Celaena is far from loyal to the crown. She hides her secret vigilantly; she knows that the man she serves is bent on evil.

Keeping up the deadly charade becomes increasingly difficult when Celaena realizes she is not the only one seeking justice. As she tries to untangle the mysteries buried deep within the glass castle, her closest relationships suffer. It seems no one is above questioning her allegiances—not the Crown Prince Dorian; not Chaol, the Captain of the Guard; not even her best friend, Nehemia, a foreign princess with a rebel heart.

Then one terrible night, the secrets they have all been keeping lead to an unspeakable tragedy. As Celaena's world shatters, she will be forced to give up the very thing most precious to her and decide once and for all where her true loyalties lie... and whom she is ultimately willing to fight for.
MY (SHORTENED) THOUGHTS
MY SHIP IS SAILING
Did I say I didn't ship Dorlaena? Did I? Yes? THAT'S BECAUSE I SHIP CHAOLENA SO MUCH MORE. I mean, that closet scene is just hilarious. And every single time Chaol and Celaena have a scene together my heart constricts in glee.
Well, until Archer and his annoying men interfered and all hell broke loose.
Ah well, it was a nice life for those first few chapters.
NEHEMIA WHY
I totally loved this girl the moment she was introduced in Throne of Glass. This woman is just too nice for her own good. And the fact that she'd do anything to save her people melts my heart. So when that happened I just… I was internally crying. My heart just… broke.
I HATE MY LIFE.
Everything is so much cooler
Remember when I said Throne of Glass didn't give me a good first impression? Well, the series apparently keeps on getting better and better. All the butt-kicking action I expected in book one happened in Crown of Midnight, and I couldn't be so much happier.
LIMBS. I WANT MORE BROKEN LIMBSSSS.
Archer Finn
Stupid, stupid Archer Finn. I hate that guy to bits.
THAT. ENDING.
I may or may not be happy that I read Crown of Midnight when Heir of Fire was finally released, because if I had to live with that cliffhanger ending then I would die of impatience.
Crown of Midnight is all the things I expected from Throne of Glass, just one book late. It has a lot more fight scenes, a lot more revelations, and yeah, my ship sadly sailed, then sank in just one book. *ugly cries*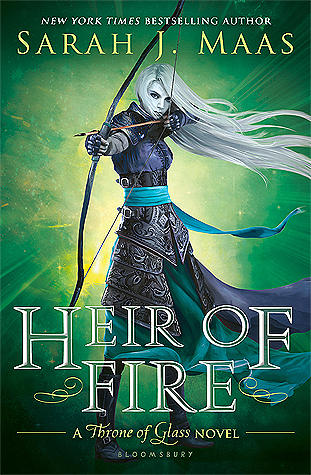 TITLE:
Heir of Fire (Throne of Glass #3)
AUTHOR:
Sarah J Maas
GENRE:
YA High Fantasy & Romance
PUBLICATION DATE:
September 2, 2014 by Bloomsbury
AMAZON | GOODREADS | BARNES & NOBLE
She was the heir of ash and fire, and she would bow to no one.

Celaena Sardothien has survived deadly contests and shattering heartbreak—but at an unspeakable cost. Now she must travel to a new land to confront her darkest truth...a truth about her heritage that could change her life—and her future—forever.

Meanwhile, brutal and monstrous forces are gathering on the horizon, intent on enslaving her world. To defeat them, Celaena must find the strength to not only fight her inner demons but to battle the evil that is about to be unleashed.

The king's assassin takes on an even greater destiny and burns brighter than ever before in this follow-up to the New York Times bestselling Crown of Midnight.
MY (SHORTENED) THOUGHTS
ROWAN(!!!)
I am literally trying my best not to fangirl right now over Rowan. At first, I didn't really like him. He was a bit boring and annoying at times. However, once I got to read about him more, I grew fond of him and sometimes was even amused at him.
For instance, he somehow has an unlimited supply of candles. And I also have this slight theory that Rowan is secretly a masochistic vampire because he keeps on sucking on Aelin that I find it hilarious.
Sorscha
The moment I was introduced to Sorscha, I knew I would hate her.
One, she suddenly became an important character. She's a girl, and she became close to Dorian. So of course we'll know what's going to happen here, right
Two, she's too innocent for my liking. I have a fair share of other book characters who are innocent and/or fragile, but Sorscha isn't included in that list.
Three, well, sure, I think Dorian's better off with her than Aelin.
Four, that last scene with her during the ending. Seriously?? I feel like she was just suddenly introduced to this story just so Dorian would have a dramatic scene before his psychotic father locks a collar in him.
So… Yeah. Definitely not a fan of Sorscha. (It also took me a hundred tries to finally spell her name correctly without checking it on Google.)
BROMANCE, PEOPLE
Can we please talk about that "I love you" with Dorian and Chaol? THAT IS BROTHERLY LOVE, PEOPLE. I LOVE IT. Although I do hate that Chaol couldn't do anything to save Dorian. I mean, he's supposed to be Captain of the Guard, and all he ever did to prove that he's actually a decent fighter was when he
lamely
protected Celaena with that creature during Crown of Midnight. (I'm not counting that scene with Cain because that wasn't a fight scene at all.)
Fleetfoot
I just wanted to add how this dog is so hilariously lucky to still be alive? I mean, come on. I applaud Chaol for sprinting out of that palace without forgetting this dog. BECAUSE DUH, FLEETFOOT IS IMPORTANT. (Mainly because if Aelin finds out this dog was left and abandoned then both Dorian and Chaol are dead.)
Seriously though I really do hope this dog survives the whole series.
Manon Blackbeak
To be honest, I didn't really like reading Manon's POV in Heir of Fire. I quickly get bored during her chapters and I usually just skim them. I understand that she's an important character in this book but she just suddenly popped out of nowhere. And yeah, I do think she's cool but ugh my eyes droop whenever it's her POV.
Aelin Galathynius
I admit I was left with my mouth hanging open when I read Aelin's full name. Seriously, if you read it for the first time you'll wonder how on earth it could possibly be pronounced. However, I do like the name Aelin.
Moving on, it was nice to know Aelin's weaknesses during this book. She and Rowan are a great pair as fighters.
Heir of Fire is a step up from Crown of Midnight. There are intense scenes, new characters, and again, more revelations. The book just keeps on getting better and better! Though some people might not be fond of the fact that Aelin is far away from Adarlan for the entirety of the book.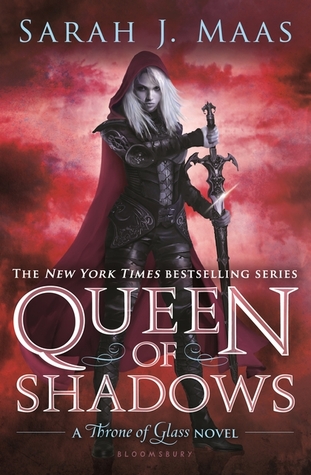 TITLE:
Queen of Shadows (Throne of Glass #4)
AUTHOR:
Sarah J Maas
GENRE:
YA High Fantasy & Romance
PUBLICATION DATE:
September 1, 2015 by Bloomsbury
AMAZON | GOODREADS | BARNES & NOBLE
The queen has returned.

Everyone Celaena Sardothien loves has been taken from her. But she's at last returned to the empire—for vengeance, to rescue her once-glorious kingdom, and to confront the shadows of her past…

She has embraced her identity as Aelin Galathynius, Queen of Terrasen. But before she can reclaim her throne, she must fight.

She will fight for her cousin, a warrior prepared to die for her. She will fight for her friend, a young man trapped in an unspeakable prison. And she will fight for her people, enslaved to a brutal king and awaiting their lost queen's triumphant return.

The fourth volume in the New York Times bestselling series continues Celaena's epic journey and builds to a passionate, agonizing crescendo that might just shatter her world.
MY (SHORTENED) THOUGHTS
Rowaelin
I shall cry an ocean because this ship is my life and I will never let it go. If this ship goddamn sinks I will squeeze myself in a rabbit hole and weep for a year. These two make me cry they are so powerful together and they just… I just… HOW DO I PUT MY FEELINGS INTO WORDS?!?
Chaol and his sudden OOC-ness
I was actually very excited for Aelin and Chaol to finally meet again because one, the chapter that includes their reunion is ridiculously long and two, it would be interesting to read about Chaol's reaction to Aelin's return (mainly because I was expecting a sweet, reunited Chaolena moment).
What I did not expect was for Chaol to suddenly go out of character and make my head ache.
I mean, come on. Chaol, what happened to you?! HAVE YOU GONE THAT PROUD?? DO YOU THINK YOU'RE THE ONLY ONE WHO EXPERIENCED HELL??? WHO DO YOU THINK YOU ARE?!
*holds on tight to Rowaelin* SAYONARA CHAOLENA I AM LEAVING YOU FOREVER.
Manon and Abraxos
I still find Manon's POVs a bit boring. However, there are finally times where I don't skip some of the paragraphs and read everything for once.
I love Abraxos and Manon's relationship and find it very amusing. I feel like if Abraxos was a human, she and Manon would be funny BFFs. And as for Abraxos, it's cute how he has a crush on Elide.
Manon and Elide
Honestly, I skip almost every Elide POV as much as every Manon POV (basically every POV that focuses on Morath makes me snooze). However, I do sympathize with her situation. I appreciate how Manon saved Elide and let her escape. I look forward to reading the scene where Elide finally sees Celaena and realizes that she just hit two birds with one stone (because Celaena = Aelin, Elide's Queen).
Aelin the party crasher
People, THAT is how you crash a party with class.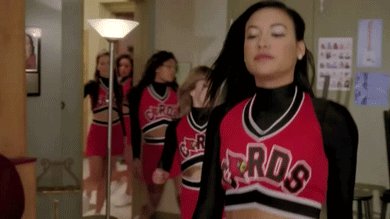 I definitely loved reading the scene where Aelin's gang saves Aedion. It was both amusing and impressive. Maybe I should give all the props to Arobynn, but the ones who did the actual saving did the risks, so.
Aedion
I feel pretty bad for Aedion when he knew that Rowan took the blood oath with Aelin before he could. But I'm grateful that things didn't go overly-ridiculous and that Aedion didn't make it that big of a deal. Because if that blood oath thing lasted for more than two chapters, then I would have most probably gotten annoyed with Aedion.
I also feel sympathetic for him over the fact that he's basically the fifth wheeler with the gang. He's the only one who has his own room to himself, and he has to endure all the noise in Rowan and Aelin's room every night. xD (Okay, I feel sympathetic but I also find it hilarious. Sorry, Aedion.)
Hopefully Aedion grabs a woman in Empire of Storms. Hopefully it's Lysandra. Hopefully they'll be my second most shippable ship in the series next to Rowaelin.
Manon and Aelin's battle scene
I LOVED THIS SCENE SO MUCH. These two butt-kicking women fighting one-on-one = awesomeness. I swear. You'll love this scene.
And also I kind of hate the whole Thirteen because GODDAMN IT WHY SHOOT AN ARROW, WITCHES. FOR A MOMENT THERE I THOUGHT ROWAN WOULD DIE I HATE YOU ALL.
The Adarlan battle scene
Well that "let's go rattle the stars" quote definitely excited me to a whole new level.
So when Rowan and Aedion was left stuck in that tower with those creatures, my heart stopped. BECAUSE NO I DO NOT WANT ANY OF THOSE TWO TO DIE, PLEASE, THANK YOU.
I also found the way Dorian remembered everything a bit corny, but I was glad it happened anyway. A felt sad for him at the end of the book though. Poor traumatized guy is left alone in his kingdom to fend for himself.
As for the King, the moment he told the truth about everything was 100% not what I expected, and I love it.
As expected, everything was awesome in this book (besides that Chaol OOC. I still hate Chaol because of it. And how stupid he was when he finally found the guts to
kill Dorian
but ended up with the wrong crowd. STUPID, STUPID CAPTAIN OF THE GUARD.) Please read it. YOU WILL LOVE IT. (I am 99% sure of it.)