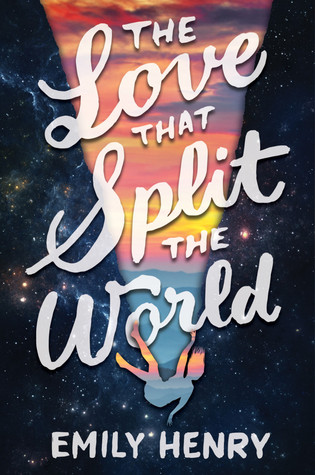 TITLE:
The Love That Split The World
AUTHOR:
Emily Henry
GENRE:
YA Contemporary, Romance, Magical Realism
PUBLISHING DATE:
January 26, 2016 by Razorbill

AMAZON | GOODREADS | BARNES & NOBLE
Natalie Cleary must risk her future and leap blindly into a vast unknown for the chance to build a new world with the boy she loves.

Natalie's last summer in her small Kentucky hometown is off to a magical start... until she starts seeing the "wrong things." They're just momentary glimpses at first—her front door is red instead of its usual green, there's a pre-school where the garden store should be. But then her whole town disappears for hours, fading away into rolling hills and grazing buffalo, and Nat knows something isn't right.

That's when she gets a visit from the kind but mysterious apparition she calls "Grandmother," who tells her: "You have three months to save him." The next night, under the stadium lights of the high school football field, she meets a beautiful boy named Beau, and it's as if time just stops and nothing exists. Nothing, except Natalie and Beau.

Emily Henry's stunning debut novel is Friday Night Lights meets The Time Traveler's Wife, and perfectly captures those bittersweet months after high school, when we dream not only of the future, but of all the roads and paths we've left untaken.
Book Review
Wow. I…
wow
. I don't even know what to say right now. I'm honestly still connecting the dots as I'm writing this review, because
The Love That Split The World
is one complicated book than I thought.
I'm going to try and write this review as un-spoilery as I can, I promise, so fear not – this review is safe as my bedroom. (Actually, I don't know how safe that is, but heck.)

The Plot
The moment I read the book's summary (you know, aside from the fact that the book cover pretty much drew me in in the first place), I knew I just had to read this book immediately! But now that I've finished
TLTSTW
, well… I don't know. I'm still piecing things together.
You see, through the first few parts of the book, I didn't even know what I was supposed to expect.
I was nearly getting bored until Natalie finally met Beau, because by then I thought things were getting interesting. Unfortunately, it didn't. When Natalie and Beau meet, we'll get to read all their lovey-dovey stuff, which I'll talk about later on. Anyway, a few chapters of Grandmother's stories here and a lot of romantic scenes there,
and when Natalie and Beau finally realize that they're both experiencing the same things, and that was when things finally escalated.
There will be a lot of scientific stuff explained in the book which honestly confused me the first time I read it.
I had to re-read some of the paragraphs because none of the information as sinking in. Everything was just
told
to me by Alice Chan – the woman who helps Natalie with her situation – and I just… I was confused, okay? I've seen a good ton of my grades in Science to know I'm not up for anything that's related to it.
Fortunately though, I got the gist of everything as I read through the book. At least, enough so that I could understand what was going on… I think.
The romance
I tried to buy Beau and Natalie's romance. I SWEAR. I REALLY DID. But I don't think I've read enough of their experiences together for me to actually sympathize with their "star-crossed love" and all.
Their romance just felt… empty to me.
Like, I knew the author wanted me to feel bad for them and get emotionally hurt as to how their love just "can't be," but I couldn't. Their love felt weak. And that sort-of insta-love at the start didn't help, either.
Grandmother
Ah, Grandmother and her stories.
I actually loved Grandmother's role in all of this
, as well as reading all of her stories and figuring out how they relate to Natalie's life, even though she also went all Science Teacher on me and I had to listen to her while my mind was playing elevator music.
Anyway, I don't want to mention any good spoilers here, so I'd just like to say that, yes, Grandmother is important. Is she really God? A prophet? A deity? You'll just have to find out for yourself. ;)
(Though, to be honest, I already figured out who she was – even though I wasn't sure of it yet – when I was at the middle part of the book.)
The truth (don't worry, no spoilers here)
I'm just going to talk about how I reacted to "the truth" here, without actually giving out what it is. So this part's safe to read, no worries.
I actually liked how thought-out this book was so everything would make sense.
I tried deciphering the truth before Natalie and Alice could figure it out themselves, and the only thing I got right was the thing about Grandmother. Which is good. I hope the truth about Natalie and Beau will shock you as much as it impressed me.
The ending
One of the things that amazed me in this book was that I don't think I've ever read the last few chapters of a book so quickly! I basically digested Chapters 28-33 in around an hour. Those chapters were definitely the most interesting parts of the book, which is quite a bummer because if almost all the good stuff happens at the end, then how many people might possibly DNF the book from the start?
But anyway, the ending.
Oh, God. THE ENDING.
What
WAS
that?!
How does one even expect me to react to that?!
Though I find the ending a bit too cheesy for my taste, I still liked that sort of "open ending" at the end. Some people might not like endings that should be thought out by the readers themselves, but I do. And I like it. I'm actually satisfied-but-not-really-satisfied-because-
WHAT-ACTUALLY-HAPPENED
.
I also want to point out that I didn't find Natalie's decision romantic at all
- I mean, you met the guy just around
TWO MONTHS
ago, and the only things you've been doing are smooching and kissing and flirting. Plus, Natalie still has a lot of things to find out about Beau that he's not letting her - and us readers - know.
I really liked
The Love That Split The World
, but not as much as I thought it would. I think it could have been better. Like I said, the beginning was a bit too boring, the romance wasn't really for me, and the end might not appeal to others, but in my opinion,
TLTSTW
is an "okay" book.
If you like mystery and star-crossed lovers and interesting theories (oh, and time travel!)
, then
The Love That Split The World
might possibly be the book for you.
DISCUSSION ABOUT THE ENDING BELOW. CONTAINS MAJOR SPOILERS. READ AT YOUR OWN RISK.
So, I just wanted to talk to you guys about that ending. I mean, THE LAST CHAPTER WAS SO - GAH. Did that story about the ghost boy mean Natalie actually lived and Beau saw her, and they lived happily ever after (even though Natalie didn't recognize Beau)? Because if the story was based on what happend after, then, well, that might be possible. I don't even know. What do you guys think? Did Natalie live, die, or do you have another idea entirely?