TITLE:
City of Fallen Angels
AUTHOR:
Cassandra Clare
PUBLISHING DATE:
April 5, 2011 by Margaret K. McElderry
GENRE:
YA Romance, Paranormal & Urban Fantasy
AMAZON | GOODREADS | BARNES & NOBLE
The Mortal War is over, and sixteen-year-old Clary Fray is back home in New York, excited about all the possibilities before her. She's training to become a Shadowhunter and to use her unique power. Her mother is getting married to the love of her life. Downworlders and Shadowhunters are at peace at last. And—most importantly of all—she can finally call Jace her boyfriend.

But nothing comes without a price.

Someone is murdering Shadowhunters, provoking tensions between Downworlders and Shadowhunters that could lead to a second, bloody war. Clary's best friend, Simon, can't help her—his mother just found out that he's a vampire, and now he's homeless. When Jace begins to pull away from her without explaining why, Clary is forced to delve into the heart of a mystery whose solution reveals her worst nightmare: she herself has set in motion a terrible chain of events that could lead to her losing everything she loves. Even Jace.

The stakes are higher than ever in the #1 New York Times bestselling fourth installment of the Mortal Instruments series.
MY (SHORTENED) THOUGHTS
*I read City of Fallen Angels in its 2015 edition, thus the updated book cover on the top left*
Clace
I knew something wrong would happen to Clary and Jace's relationship before I ever started this book. It's not because I asked for spoilers (I really didn't), and it's not because I wanted their relationship to experience hell again, either. I just…
knew
, you know? These two are so troublesome that I knew their happy relationship wouldn't last long.
And HA, was I right. I still don't ship them that much, and I greatly support Jocelyn's opinion on their relationship, but I have to admit, I liked their relationship even a
little bit
more than I originally did in the previous books.
Simon Lewis (and his relationship drama)
Let's admit it: City of Fallen Angels is sort-of Simon's book. I mean, the awkward love triangle is there. The problem with the Mark of Cain is there.
Kyle
, Simon's babysitter, is there. We even get to meet more vampires just from the first chapter. So yep, if you don't like Simon, I'm not sure you're going to be fond of CoFA that much.
To be honest, I wasn't at all surprised that Simon managed to get himself stuck dating two girls at the same time. I mean, IT'S SIMON LEWIS WE'RE TALKING ABOUT HERE. I actually found his problem a bit amusing, so I have no problem with it. Though I do pity Isabelle and Maia for getting themselves involved in Simon's relationship drama.
As for Simon himself, I like how the Mark of Cain made him almost invincible. One, because at least there's something Simon can protect himself with, and two, it also provides humor in the books sometimes, too. For example:
Simon stepped between them. "I'm not going to let you fight with each other."

"And what are you going to do about it if…Oh." Jace's gaze trailed up to Simon's forehead, and he grinned reluctantly. "So basically you're threatening to turn me into something you can sprinkle on popcorn if I don't do what you say?"
Maureen
I actually have no idea what Maureen's role is in the whole series except for proving that Camille was right about the "drinking human blood" thing. Was she really necessary? I don't know. And I didn't feel anything special for her either.
Kyle The Babysitter (spoiler with Kyle's identity below)
Honestly? I LOVE KYLE. I even love him better than Jace. Actually, I love a lot of other males in the series more than I love Jace. But anyway, I love how he wants to make things right between him and Maia again. I even love their relationship more than I do Clace's. (I DON'T KNOW WHY, OKAY. Somehow the other ships are better than Clace for me.)
The plot
I don't really know what to feel about CoFA. I mean, nothing really interesting happened until the end of part one and the actual last chapter. (That cliffhanger though. I can't imagine how the earlier fans waited for this years ago.) It's surprising how it was faster for me to read the previous books more than this one, considering how CoFA is shorter than any of the first three books.
All I want to say is, I admit I got bored for the most of part one, and only the few scenes really amused and got me hooked in CoFA, which is sad. Soooo… I really can't help but give this book three stars. Sorry. :(
Oh, and can I just add: "BROTHER ZACHARIAH FINALLY APPEARED HECK YEAH."
TITLE:
City Of Lost Souls
AUTHOR:
Cassandra Clare
PUBLISHING DATE:
June 1st, 2012 by Margaret K. McElderry
GENRE:
YA Romance, Paranormal & Urban Fantasy
AMAZON | GOODREADS | BARNES & NOBLE
The New York Times bestselling Mortal Instruments continues—and so do the thrills and danger for Jace, Clary, and Simon.

What price is too high to pay, even for love? When Jace and Clary meet again, Clary is horrified to discover that the demon Lilith's magic has bound her beloved Jace together with her evil brother Sebastian, and that Jace has become a servant of evil. The Clave is out to destroy Sebastian, but there is no way to harm one boy without destroying the other. As Alec, Magnus, Simon, and Isabelle wheedle and bargain with Seelies, demons, and the merciless Iron Sisters to try to save Jace, Clary plays a dangerous game of her own. The price of losing is not just her own life, but Jace's soul. She's willing to do anything for Jace, but can she still trust him? Or is he truly lost?

Love. Blood. Betrayal. Revenge. Darkness threatens to claim the Shadowhunters in the harrowing fifth book of the Mortal Instruments series.
MY (SHORTENED) THOUGHTS
*I read City of Lost Souls in its 2015 edition, thus the updated book cover on the top left*
Magnus Bane (and Malec)
*coughs*
*clears throat*
*clears mind*
*opens mouth*
WHAT THE FUCK JUST HAPPENED WHAT DO YOU MEAN "AKU CINTA KAMU" WHAT THE HELL MAGNUS BANE YOU GET YOUR HALF-DEMON ASS BACK HERE AND EXPLAIN YOURSELF.
*clears throat again*
Okay, now that that is settled… THIS. BOOK. It's definitely a lot better than CoFA, but I'm not sure about the first three. Even so, City of Lost Souls definitely made me sweat sometimes from the possibility of Clary getting herself killed in her reckless decisions. Which brings me to…
Clary and her reckless decisions (AGAIN)
If you've read my previous review for books one to three, you're already aware of how frustrated I am with the way Clary deals with situations. This book isn't any different. I mean, REALLY? GO AND HANG OUT WITH THE VERY GUY YOU NEED TO GET AWAY FROM?
REALLY
, CLARY?
This girl just can't get her feet on one place even for a minute.
Also, that scene where Jace was about to turn himself in… I mean, I love her and all, but her solution to save Jace and stop him from going was just… UGH.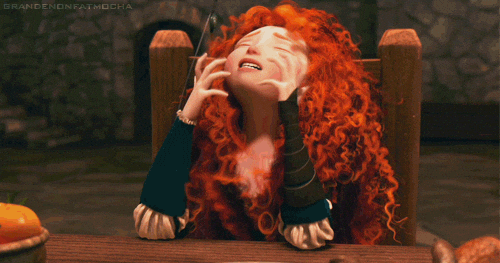 Sebastian Morgenstern
I admit, I'm still fond of Sebastian as a villain. He's even better at the job than his father. I also loved the times where he was actually sort of friendly, or when he was showing his weak side to Clary.
But… the only thing that bothered me was that scene where Clary runs out of the apartment. I did NOT approve of that even one bit. He almost
raped
her. I don't even care if he doesn't believe in incest or something but I just… I can't…
Clace
Nope. Still not shipping it.
Brother Zachariah
Who I informally nickname as "Bro Z" BECAUSE I CAN. Anyway, I understand that he's different from the other Silent Brothers. I admire him for that, and I totally understand why since I finished TID before reading TMI. I think I should feel something about Brother Zachariah being weirdly different than the other Silent Brothers but… heck, I don't really care.
I love it when he does his best to protect Jace (even though I'm also frustrated over that guy, especially now that he's being controlled by Sebastian and he's, like, smooching Clary every moment he sees her). It reminds me of the times when he and Will were together and having fun with each other's company. (It also brings me tears. Not literally but… well, if you're a fan of Will and Jem, then I'm pretty sure you're going to feel the same thing.)
Jace What's-His-Last-Name
I have neutral feelings over this guy. Well, maybe it's more of "hate" than "love." Mostly because, like I said above, he always finds time to stick his lips with Clary's every time he sees her and I just… UGH. CAN WE MOVE ON TO THE STORY PLEASE.
Even so, I admire his will to turn himself in, even though it also means he might possibly get himself killed. That may or may not be one of the very few things I liked about him in the series.
All right, fine, this was better than CoFA. For one, It has more Malec (though it enraged me more than I expected. NEVER MENTION THAT PAGE TO ME OR I SWEAR.) It has a "friendlier" Sebastian (err, sort of). It also has more Camille (but she gets annoying, yet in a good way because she gets the "Malec" plot going). And the ending! Definitely more intense than the previous book if you ask me. So if you're planning on reading CoLS, then those are the things you might want to look forward to in the book.
That said, I still had some issues with this book, mainly because of Clary. She honestly just made matters worse in this book and I just can't help but dislike her. :/ Sorry.
TITLE:
City Of Heavenly Fire
AUTHOR:
Cassandra Clare
PUBLISHING DATE:
May 27th, 2014 by Margaret K. McElderry
GENRE:
YA Romance, Paranormal & Urban Fantasy
AMAZON | GOODREADS | BARNES & NOBLE
In this dazzling and long-awaited conclusion to the acclaimed Mortal Instruments series, Clary and her friends fight the greatest evil they have ever faced: Clary's own brother.

Sebastian Morgenstern is on the move, systematically turning Shadowhunter against Shadowhunter. Bearing the Infernal Cup, he transforms Shadowhunters into creatures out of nightmare, tearing apart families and lovers as the ranks of his Endarkened army swell.

The embattled Shadowhunters withdraw to Idris - but not even the famed demon towers of Alicante can keep Sebastian at bay. And with the Nephilim trapped in Idris, who will guard the world against demons?

When one of the greatest betrayals the Nephilim have ever known is revealed, Clary, Jace, Isabelle, Simon, and Alec must flee - even if their journey takes them deep into the demon realms, where no Shadowhunter has set foot before, and from which no human being has ever returned...

Love will be sacrificed and lives lost in the terrible battle for the fate of the word in the thrilling final installment of the classic urban fantasy series The Mortal Instruments!
MY (SHORTENED) THOUGHTS
*I read City of Heavenly Fire in its 2015 edition, thus the updated book cover on the top left*
Kyle. JORDAN. EFFING. KYLE.
I knew it. I KNEW IT. I DEFINITELY SHOULD HAVE PREDICTED IT. THEY ALWAYS DO THIS TO THE COOL PEOPLE.
*sniffs*
I feel bad for him even more because Maia was about to break things off between them before he died and… just… MY BABY.
Bro. Z.
I definitely love him back as Jem again. I'm glad I finally got to meet the Jem before he went to introduce himself to Tessa again in 2008. Plus, that confrontation between him and Jace when Jem was back as a non-Silent Brother again? I loved reading that part.
I also had a soft spot for that scene where Jem protected the Blackthorns – well, mostly Emma because, well, you know – and he was just kicking butt as a Shadowhunter/Mundane(?) again. I JUST MISSED JEM OKAY.
Alec Lightwood (and Malec)
"I did not make a pie, for three reasons. One, because I do not have any pie ingredients. Two, because I don't actually know how to make a pie."

"And three?"

"Because I am not your bitch."
I definitely liked the fact that I got to venture more into Alec's life and feelings in CoHF, especially those parts where they were in that other dimension and he and Jace were having the brotherly talk. I definitely appreciated it.
I also appreciated reading the Malec parts in this book. Magnus and Alec's relationship just has this soft spot inside of me that I hold really dearly in my heart and UGH JUST LET ME HUG THEM.
Raphael Santiago
I didn't expect to have any feelings over Raphael's death. But seriously, Sebastian just DID IT. AND I WASN'T EVEN PREPARED. I think it's because of how Raphael chose not to kill Magnus. I respect that decision of his. Hopefully I can get to their story in the Bane Chronicles sometime. I have a feeling it's going to be very emotional.
(Seriously though, I should really get used to the deaths of cool characters. WHY DON'T I EVER LEARN.)
The final battle
The final battle was definitely a whole lot better than the final battle with Valentine in City of Glass. AND THOSE EYES. THOSE EFFING GREEN EYES. *cries a river* I was an emotional wreck by the time I finished this book. Can't Cassandra Clare write another scene with a better Sebastian? Like, the one with green eyes? BECAUSE I JUST CAN'T OKAY. THE FEELS STRUCK ME HARD.
And by the time the gang finally had to leave the other dimension and resorted to using Magnus' dad for help? I didn't even expect Simon to step in and volunteer. I was like, "NO. SON. STAY AWAY. YOU AND ISABELLE JUST GOT TOGETHER FOR GOD'S SAKE JUST STAY AWAY."
I was a Sizzy shipper by the time that happened okay, I'm sorry.
The epilogue
Let me just say this epilogue brought me to even more tears than the final battle. I mean, sure, it gave me the laughs, BUT IT WAS ALSO AN EMOTIONAL RIDE FOR ME BECAUSE IT WAS THE ENDING. I admit, Simon's "forgotten memories" thing was a bit of a cliché for me, but I ended up not minding it at all. I knew he'd remember things eventually, yes, but you know. It still broke my heart.
Also, BROTHER ZACHARIAH JUST STOLE THE INSTITUTE'S CAT.
City of Heavenly Fire is one heck of a really big book, and at first, I expected to get bored at some scenes, but that wasn't the case at all. If you got bored with CoFA and/or CoLS, then CoHF might possibly give you back that "hooked" feeling that one gets with every chapter Cassandra Clare writes. Plus, you just GOT to reach that ending! All in all, I give this book 4 stars.